Breakdown and Heartbreak
Straining and striving, you push harder than ever… your goals fixed in your mind, your weary body improving by the week. Then the un-hoped for happens: injury, illness, accident… something derails your training and your dreams. Your reaction or response says so much about your values and perspective.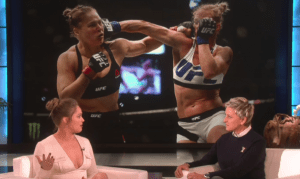 Sometimes a cool head prevails… you say "This is a minor, temporary setback… I'll be fine." Other times you don't know what to do next; your whole world is upside-down. I still remember an interview from back in February that so well captures this experience. Ronda Rousey, a decorated US Judo Olympic medalist, was interviewed on the Ellen Show.  Ronda the UFC champion days before was shockingly upset, losing her title. Her incredibly vulnerable comments have been stuck in my mind ever since:
"What am I anymore if I'm not this [the best]?… I'm nothing. What do I do anymore? No one gives a ____ about me anymore"
She also shared how thoughts of suicide passed through her head at the same time.
Think about this:  Ronda Rousey, one of the best, toughest athletes in the world who has found athletic, cultural, and other types of success is defeated and all of her successes and her hopes and dreams seem empty, lacking.  Everything seems to have fallen away.  Her thoughts are in free-fall.
How do you react?
Have you been there? Contemplating In your darkest hours the unthinkable, believing that your life doesn't matter? All of your worth and hope and identity in ________ is now gone, stripped away…
The Altitude Project was created in part to help you with this very thing and know that you are More than a Runner. You have talents, abilities, experiences, wisdom, hope, and dreams God has given you for a purpose.
How we want to help you
We want to help you know God

:

We want to help you know you

:

How are you going to know what you are great at if you don't know yourself?

We want to help you know others

:

Our amazing and accomplished staff all love God, running, and people like you.  We love all of those things so much that we donate our time and resources to help you grow (nope, we don't get paid for this at all).
You also get to meet amazing runners from around the nation. I have amazing friends from the Altitude Project all across the nation who I still keep up with.
Come Join Us!
So, do you want to find out what it means to be More than a Runner?  Join us this summer for a week or two!  Come learn with us and grow spiritually, socially, and physically!